Vitamin C is not only found on the plate. Also known as ascorbic acid, it is also used in facial care, particularly in serums. And with good reason, this powerful antioxidant protects skin from free radicals that accelerate skin aging.
Anti-aging: This filler, which "deletes fine lines well", was awarded by a jury of consumers
At the same time, it boosts the production of collagen, which prevents the skin from sagging. Vitamin C, France's most searched anti-aging ingredient on Google, prevents the appearance of wrinkles, pigment spots and, in particular, promotes the complexion's radiance.
Not all vitamin C treatments are created equal
But not all facials containing vitamin C are created equal. Sometimes insufficient concentration of the active ingredient in the formula, instability of the ingredient, which tends to oxidize quickly in the open air … It is better to choose your product carefully, without relying on a simple statement about the presence of vitamins C in its composition. However, the new Yon-Ka C20 Serum, launched in early 2023, responds precisely to all of these issues.
Yon-Ka C20 Serum, highly concentrated in stabilized vitamin C
In terms of concentration, the formula does not skimp: it contains 20% vitamin C. A very powerful dosage that contributes to the effectiveness of the product. This is reinforced by the choice of a new generation of more stable vitamins, ascorbyl tetraisopalmitate.
Behind this mysterious name lies a 100% natural active ingredient (in the case of Serum C20) consisting of active vitamin C and a fatty acid, isopalmatic acid. This derivative of vitamin C has the same powerful antioxidant properties while offering better stability than traditional ascorbic acid. Due to the lack of acid, it is also better tolerated by sensitive skin.
The other active ingredients in its formula: Curcuma Longa, Pomegranate, Apricot Oil and Essential Oils
The 99% natural and made in France formula also contains 1.5 million native plant cells per bottle, obtained from a biotechnological process that respects the environment. They are added to apricot oil and essential oils.
The native plant cells of Curcuma longa stimulate cell renewal and promote the synthesis of collagen and elastin fibers.
Pomegranate native plant cells have similar anti-pigmentation properties as vitamin C by regulating the synthesis of melanin.
Organic Apricot Oil extracted from the core, softens the skin and gives it a radiant glow, thanks to its richness in omega 6 and 9 and vitamins E and A.
The quintessence of Yon-Kaa trademark of the French house, is a complex of 5 soothing and nourishing essential oils: lavender, rosemary, geranium, cypress and thyme.
We tested the Yon-Ka C20 serum: our opinion
A more even and radiant complexion
With a simple application in the morning (approx. 6 drops), Serum C20 Yon-Ka already works wonders. After 2 weeks we noticed that the skin imperfections were smoothed and the complexion was much more even. The chiaroscuro has really faded, giving way to a lighter face and less blurry complexion over time. Bluff!
A radiant effect that is confirmed by 9 out of 10 women who have used it morning and evening for just 5 days (test carried out on 21 testers). Clinical studies also show that the homogeneity of the skin's appearance is improved by 58%.
Reduced fine lines
The serum also appears to reduce the depth of fine lines without making them disappear. After the 3rd week of use, those present around our lips have visibly decreased. Effectiveness confirmed by a clinical study: from 2 weeks of use, fine lines are reduced by up to -30% (15% on average).
A highly sensory texture and fragrance
Serum C20 has a fine, oily but non-greasy texture. As it is said to contain fat-soluble ascorbyl tetraisopalmitate – oil soluble – it is very comfortable to apply, especially after spraying a lotion on the face. Soothing but not sticky, it absorbs quickly into the skin and gives it a beautiful glow. So you can continue with the cream without waiting and apply make-up a few minutes later.
We also love the intoxicating aromatic scent of the treatment. Essential oils work together to soothe the senses, complemented by sweet orange for total relaxation.
The Vitamin C25 Facial at Institut Yon-Ka for a powerful boost of radiance
Those looking for an instant and even more powerful boost can also opt for the Vitamin C25 salon treatment. Immersed in the Mediterranean scents loved by Yon-kA for an hour, we enjoy an extremely complete protocol designed in 10 steps.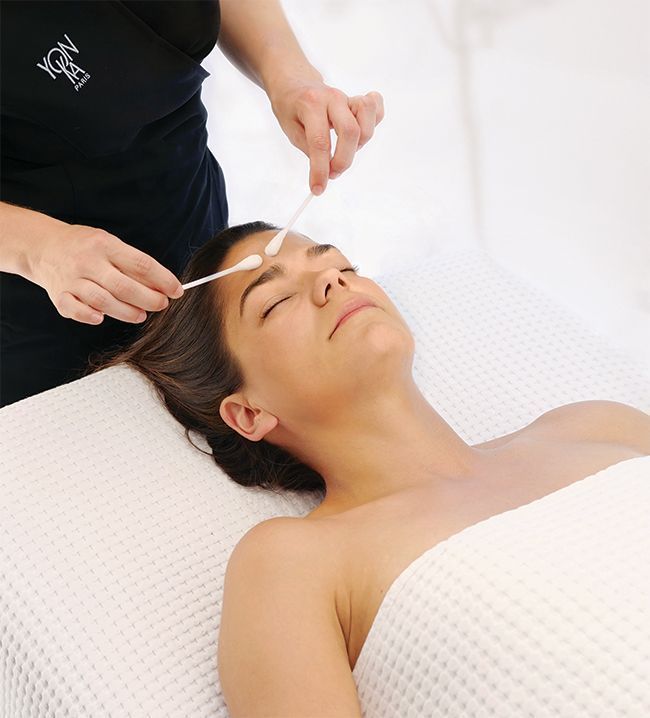 steps
After cleansing, peeling and moisturizing, the skin is thoroughly freed from dead cells and impurities. It benefits from a powerful light exfoliation dosed with 30% glycolic acid – it naturally causes some tingling, which then disappears. The epidermis is gently tightened, worked with sticks in circular and smoothing movements, in an anti-aging perspective.
We will then enjoy a delicious massage of about ten minutes with the C25 Yon-Ka serum, only available in the cabin version. The face relaxes under the practitioner's gestures as the mind dissipates.
Finally, a modeling mask is applied to the face – and even to the eyes! – while the beautician relaxes the head or hands. Then a final dose of Serum C25 is applied to the skin.
Our opinion
In addition to the deep relaxation that this particularly well thought-out ritual offers, the radiance it gives to the complexion is sensational. Much more homogeneous, it immediately looks less dull and the signs of fatigue are less present even after several days. The complexion is smoothed, roughness reduced and you leave the session with a big smile on your face.
Source: Femina